Sango
Sango's daily wear is typical for a heimin traveling woman during the Muromachi.
Sango wears a short-sleeved, light kimono of simple design known as a kosode ("small sleeves"). It is white with large, solid magenta ellipses. An early episode shows her kosode is held closed with a thin red and pink striped obi.
Above the kosode and obi is a skirt called a mo-bakama. This skirt has a detailed leaf pattern of varying shades of green in the manga, and is solid green in the anime. It is tied with a simple bow at her back.
Sometimes, the mo-bakama is worn over a thigh-length kosode; the legs are covered only by the wide skirt, allowing for ease of movement. The bottom of the mo-bakama has a wide strip which is of the same pattern as the kosode; this gives a layered appearance without the woman needing to cover her legs with two separate layers. However, in one of the early episodes we see Sango wearing what would appear to be the same kosode without the mo-bakama, and it is full-length.
Her kosode is sometimes called a yukata, which is the type of kosode commonly worn in modern Japan for summer festivals. However, a yukata is not worn with anything above it but an obi, and during the Muromachi it was not worn as outerwear: it was still a bathrobe and would not be worn as a summer kimono for hundreds of years.
Beneath her kosode she would wear a hadajuban.
The arm and leg guards Sango wears are typical travel wear for men and women. The leg guards are called kyahan, and consist of cloth wrapped and tied around the calf Hers are black and seem to extend from just above the ankle to (probably) just below the knee. The arm protectors called tekkou. They cover her forearms from just below her elbows to her wrists. At the back of her hands, the tekko taper off and are secured by a loop around her middle finger. White padding crosses her palm, more or less parallel to her outstretched thumb.
Her right tekkou conceals a hidden blade, which is apparently released by a covert movement of her hand, and springs into position with enough strength to tear through her tekkou. When fully extended, it is a scythe-like inward-curving blade, sharpened on its outside curve. It is mounted to her wrist just opposite her thumb. She uses it as a means to remove rope binding her wrists, or as a weapon of last resort. The left tekkou does not seem to have a hidden weapon.
Her hair is tied back with a white ribbon; this hairstyle is called sagegami. She has a blue-and-white carrying cloth called a furoshiki which is tied over her shoulders or around her waist. Her sandals are of the zori style, and she carries Hiraikotsu over one shoulder with a black strap. Pink eyeshadow completes her appearance.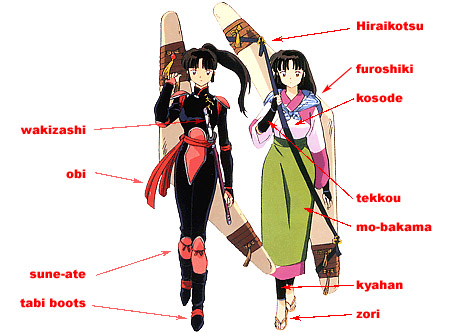 Sango is the only character in the series to regularly wear more than one outfit.
Her youkai taijiya outfit is apparently typical of the fighters in her village, and (in case you were curious) does not look anything at all like the clothing of the time.
The most obvious part of her dress is a black, skintight "catsuit." The series seems to indicate this is one piece, but it's possible it consists of pants and a long-sleeved tunic, or pants, arm guards, and a sleeveless tunic, or numerous other combinations. The top has a toggle at her collar and a red-lined seam that appears to go from her throat to a point just below her right shoulder. Below her left shoulder is what appears to be a vine-like design in gold weave. The material appears to be similar to a leotard, made of synthetic elastic fabric which did not exist until the 20th Century. It's possible it is some sort of leather or youkai-hide.
Around her waist she wears what appear to be two pieces of light armor held with a wide silk obi.
She wears arm/wrist guards similar to the tekkou worn with her kosode outfit, except with pink material rather than white. She has round elbow pads secured with a loop of fabric similar to her obi, and round shoulder pads secured with another loop of fabric which crosses over her back. This armor/padding appears to contain numerous compartments to conceal small taijiya items.
On her legs she wears shin guards similar to a samurai's sune-ate; these are probably worn over black cotton socks. Her boots appear to be made of hard leather, which some samurai were beginning to use at the time.
In her taiji-ya uniform, Sango ties her hair back in a sensible high ponytail, wears a wakizashi on her obi, and carries her Hiraikotsu over her back with one hand.
Sometimes she is seen wearing an iron mask, which apparently serves as a gas mask. This looks very similar to a samurai's me no shita men (literally, "below-the-eyes mask," also called a mempo), a face mask protecting the cheeks, nose, mouth, and chin. An important difference, however, is that a mempo is usually detailed to look like a realistic or grotesque human or demon face, often with such details as realisitic facial expressions and mustaches made of bristles. Sango's mask, however, is of a much more feminine plant-like pattern.
Sango is never seen carrying any other items - her travelling bag or her kosode outfit, for example - so it is assumed she leaves those someplace safe when she enters a fight.
Sango's armor is solid pink in the anime and a marbelized pink in the manga (that is, made to look like coral). All other taiji-ya of her village wear/wore the same outfit except with different colored armor and different primary weapons. Kohaku, for example, has amber-colored armor and carries a kusari-gama.
Koharu
Koharu wears a traditional attire for a lower-class rural village girl, much like Sango.
Koharu wears a blue-green kosode with dark blue parallel-line markings and a cream-colored mo-bakama. On her head she has a scarf that appears to be tied in the katsura-tsutsumi style.
Miroku
Miroku's clothing is that of a practitioner of Sôtô Zen, which was established in the 13th Century; today it is one of the largest Zen sects in Japan and in the West and their current-day practitioners dress in practically the same way. His black robe is a type of ôsode (wide-sleeved robe) called a koromo. The purple sash that wraps around his body and over his left shoulder is called an kesa. This specific variant is called ôkesa because it covers the entire body except the arms. When Miroku was younger, he wore a smaller kesa that covered only the belly called a rakusu. His teacher Mushin wears another variant that covers the trunk and one arm called a gojogesa.
The koromo is traditionally tied closed with a cord at the waist, and beneath it Miroku would wear a hadagi and fundoushi.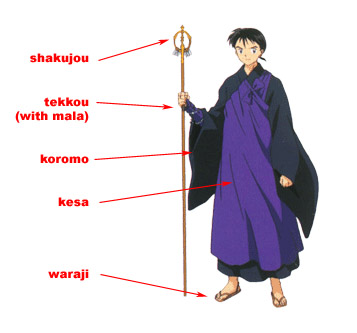 Miroku wears kyahan in the anime, but not in the manga. He wears waraji sandals and carries a shakujou, a Buddhist staff with an ornamental head and noise-making rings, which serves as a walking stick and a weapon. A little tuft of hair at the base of his neck is tied off in a sort of tail, and his left ear is pierced with several small gold hoops.
Miroku has a tekkou on his right hand to conceal and protect the Kazaana on his palm. It appears to consist of a flap of cloth over his palm and the back of his hand, secured by a ring over his middle finger, and a piece of heavier material wrapped once around his forearm and tied on the underside of his arm. Wrapped around this is a ring of Buddhist prayer beads. Japanese Mahayana Buddhist monks always carried loops of 108 beads, called mala and used them in their prayer rituals. When traveling, Japanese monks would usually have their mala around their necks or constantly held in one or both hands.
Prayer beads of 27, 30, or 40 beads are more common among non-practitioners for prayer or as luck charms, and are called juzu. When Sango and Miroku fight a wolf-youkai that has been seducing and draining the life out of lost men, Miroku gives Sango one of these juzu for her protection.
Inuyasha
Inuyasha's red wide-sleeved jacket is called a suikan, it is a sort of hunting jacket with squared shoulders and wide sleeves. The sleeves are slit open above the shoulders, and the cuffs have a string woven through them called a sode-kukuri.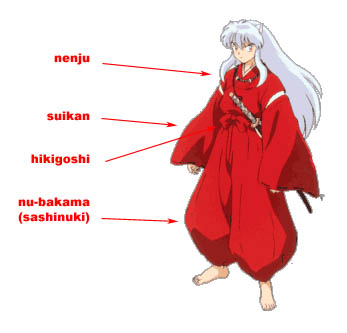 His hakama are bloused at the ankles and are called nu-bakama or sashinuki. The hakama cords are tied in front. His clothes are said to be made of "fire-rat fur," a reference to Taketori Monogatari ("The Tale of the Wood-Cutter"), also known as "The Tale of Princess Kaguya," which is the basis for the second Inuyasha movie The Castle Beyond the Looking Glass.
Inuyasha wears a white hadagi which is visible beneath his suikan, and likely wears fundoushi as well.
The "restraining rosary" around his neck, forced upon him by Kaede, and allowing Kagome to subdue him with her "oswari" command, appear to be a mixture of mala and magatama beads. It's not really discussed much in the series, and the only name given to it is nenju.
Inuyasha wears his sword Tessaiga at his left side, held by the cords on his hakama.
Inuyasha's feet are always bare.
Kikyou
Kikyou's attire is that of a miko. Long before the sengoku jidai, this was a mysterious woman who served as an oracle. Today, it is a young, unmarried woman who assists a Shinto priest. The traditional dress of a miko has not changed significantly in the past 500 years.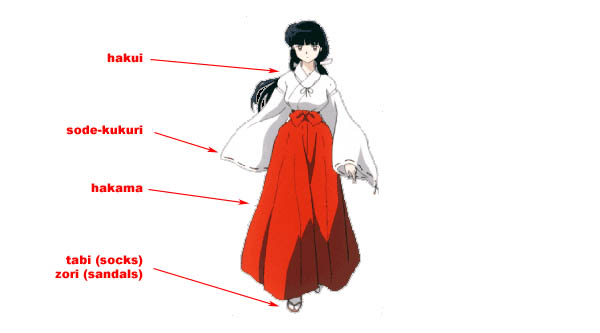 The base of the uniform of a miko is a white robe called a hakui, with sode-kukuri on the cuffs and split-open shoulders. A pair of strings from either lapel called muna-himo are tied at her chest, and keep her shirt from sliding off her shoulders. A hadagi hem is visible at her neckline and the openings of her shoulders. The hakui most likely extends to just below her knees, but it may be much shorter.
Over her shirt are red pleated hakama, which are tied high above her waist with a prominent bow at the front. Since this hakama is to be worn with a robe, it is not split like trousers.
Kikyou wears white tabi socks and zori sandals, and her hair is tied back in a tight white ribbon in the traditional miko style.
Kikyou often carries a bow and quiver on her back.